Wishlist Member (partial integration)
AffiliateWP, while not offering a direct integration for Wishlist Member, is fully compatible with Wishlist Member and allows you to easily track referrals for affiliates during membership registration.
The [affiliate_conversion_script] shortcode allows you to easily generate referrals when new members make it through the registration process and land on your success page.
When creating the Level in Wishlist Member, you can define the page that members land on after registration:

The success page is set in the Redirects section: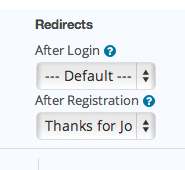 On the page that you select for the After Registration option, add the following short code:
[affiliate_conversion_script description="Put membership level name here" amount="20" context="wishlist"]

The description parameter can be set to anything you wish. A good option would be to set it to the name of your membership level, such as Gold.
The amount parameter should be set to the same price as the membership level's price.
Leave context as is, set to "wishlist".
Once the short code is added, AffiliateWP will properly create referrals anytime a member that was referred by one of your affiliates successfully signs up for your membership.